Jungle Juice Sangria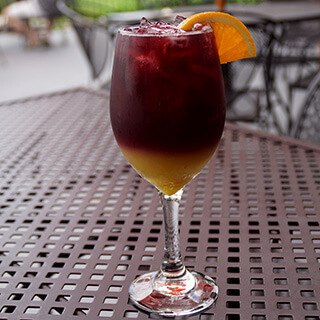 Welcome to the Jungle Juice perfect for fun and games. We've got the everything you want and buddy we know their names. We are the people that can find, whatever you may need, If you got just a little money, buddy, you can make this drink with ease. It's the Jungle Juice welcome to the Jungle Juice, watch your friends say please, please pour one for me. Welcome to the Jungle Juice, buy the ingredients today. If you want red wine and banana rum, that's all you have to say. We have a very friendly staff, we only aim to please, so head to Jerry's Wine & Spirits (or the Tamarack Tap Room) and save a glass for me, of the Jungle Juice, welcome to the Jungle Juice!
Ingredients
1 oz pineapple juice
1oz orange juice
1oz Bacardi Banana Rum
2oz red blend wine
Lemon-lime soda
Directions
Pour ingredients over ice in wine glass and top with a dash of lemon-lime soda.
Back to Recipes