French Kiss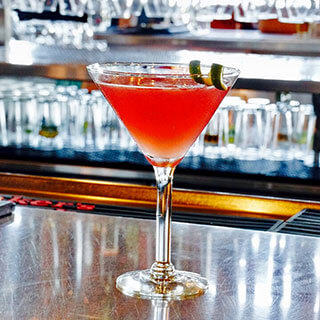 This drink is gonna make you say "ooh la la" while you rock 'n' roll all night and party ev-er-y day. The French Kiss cocktail combines the sophistication and elegance of France with the hard rockin' excitement of the band Kiss — members of the Rock 'n' Roll Hall of Fame (not sure how that happened). For the perfect French Kiss just take Absolute Citron, Chambord, sweet and sour, a splash of soda, put it in a martini shaker and shake! This drink is sure to be a #1 hit. Some may even call you the Monet of mixologists (He was a French artist that's why it's funny). So head on down to Jerry's Wine & Spirits and grab everything you need to start French Kissing at home or rock on down to the Tamarack Tap Room and order one today.
Ingredients
3 oz. Absolute Citron
1 oz. Chamboard
1 oz. sweet and sour
2 oz. Midori (melon liquor)
Splash of soda
Directions
Add all ingredients into martini shaker.
Shake and pour into martini glass.
Back to Recipes